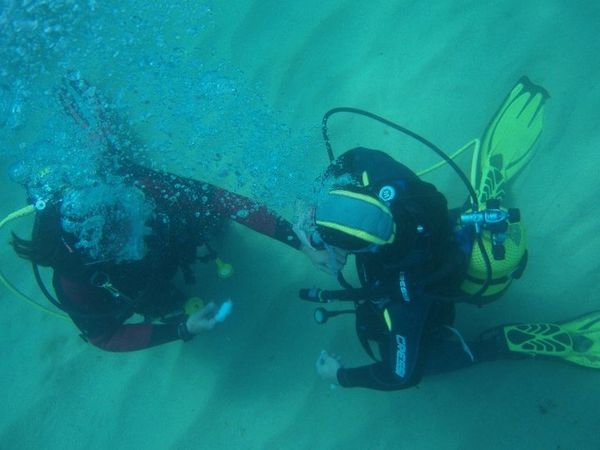 What is a baptism?
A baptism is a scuba dive initiation, undertaken with a scuba dive instructor. This is ideal for someone who is not familiar to the undersea world.
Characteristics of our baptism
Baptisms are usually very short (Most last only 20 to 25 minutes). Ours last around 45 to 60 minutes, so you can make the most of your time
Our baptisms are personal to you - We tailor the session and activities to you and your group
All sessions provide clear and informative tutorials prior to the activity, which outline the equipment used, the activity and games, and some scuba diving theory.
What is included?
Expert guidance from a 'Dive Master' qualified instructor - (We know our stuff)
Equipment
Neoprene suit
Jacket
Regulator
Mask
Bottle
Basic dive training:
Familiarisation and device handling.
Basic laws of the underwater environment: buoyancy, compensation, breathing...
Underwater communication: language with signs.
Explanation about the activity: Briefing, tutorial, and theory.
Respect for the environment and life.
Full Insurance for all activities throughout the day.
Complimentary photo (A full photo shoot is available for an additional fee)
FAQ'S
Can I take part?
Most people are suitable for this activity.
There are no forms to fill in, no medical declarations, and it doesn't matter if you smoke!
The main purpose of the activity is relaxation and enjoyment, so as long as you do not have any heart conditions, you'll be fine!
What do I need?
Please ensure you bring your swimwear, some appropriate footwear, and a towel with you on the day of the activity
Payment
This will be in cash at the end of the activity.
Schedule
First, there will be a presentation which will explain the activity, the equipment, biodiversity and basic rules to communicate underwater.
Next, its down to the beach. You'll go through all of the equipment, and together with the instructor you will get into the water and start by using the regulator in shallow water, which will gradually get deeper.
The underwater bit. You'll stand next to the instructor, holding hands or in parallel. He'll then guide you, helping you search under the water. You'll see life, colours, and a whole new world. You can take pictures and play games..
It's up to you. If you are cold, tired, or don't want to continue, just let your instructor know. The instructor may also stop or delay the session due to safety reasons, air consumption, visibility, etc.
The activity is 100% safe, the instructor has the best qualifications, best knowledge and plenty of patience. It's your time, so if you want to go to the surface, talk, rest, do more, or stop you can! We want you to enjoy the session
We can't always guarantee the water visibility (as this usually depends on the weather) but we can guarantee that you are gonna have fun!!.
To be informed of the latest articles, subscribe: